You may be skeptical at first, especially if you're over the age of 16. But everything here is under $10, found in the drugstore beauty aisle and actually delivers (EDIT: Best place to find these products is Rexall Pharmacy or WalMart). What more could you want?!
Wet 'N Wild Creme Gel Eyeliner
Rivals Bobbi Brown and MAC Fluidline gel eyeliners, and costs a fraction of the price. Excellent wearability and goes on smoothly.
Maybelline Full 'N Soft Mascara
This mascara is the perfect 'natural looking lashes' mascara. The name is bang on, it will give you full ('n) soft eyelashes.
N.Y.C. Sun 2 Sun Bronzer
Two shades of bronzer to create dimension to the face or just use the lighter shade in the winter and the deeper shade in the summer. There's minimal shine/shimmer and a great selection of shades to choose from.
Wet 'N Wild
Wild Shine nail polish is a great, cheap nailpolish in fun fashion colours.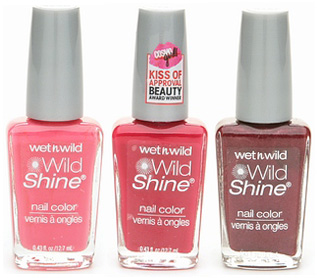 Rimmel Sun Shimmer Instant Tan Makeup (For Face or Body)
A lifesaver when you want to wear shorts and skirts and realized you're still whiter than white. Also looks great if you want to even out your skin tone. Comes in different versions suitable for the face or body, in shimmer and matte.
Bonnebelle Dr. Pepper chapstick
It's kitsch, but it works and leaves a really subtle berry hue on the lip. Smells great too.
N.Y.C. Blushable Creame Stick
A lightweight creme-to-powder blush in a fun tube package, love these!